SPORTS PODIATRIST AND AN ATHLETE
Work with a Sports Medicine Physician, and a Runner
Podiatrist Dr. Wachtel
Andover Sports Foot Doctor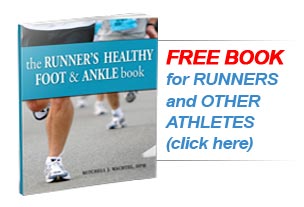 DPM doctor Wachtel is a runner and a sports medicine physician who is a specialist in runners athletic feet issues. If you are a runner or any other type of an athlete, our podiatry office offers;
evaluation of shoe gear
devise a plan for type of orthotics needed to prevent foot injuries,
evaluation of your gate (the way you walk which affects balance, stride length, and injuries down the road),
and we also provide you with an exercise program to prevent further foot injuries
We also recommend that athletes look into laser treatment. Laser is non-invasive and is considered a best friend for athletes. Laser treatment creates oxygenation, and gets rid of pain much quicker. It is very effective for achilles tendonitis.
---
---
Common Athlete Foot Problems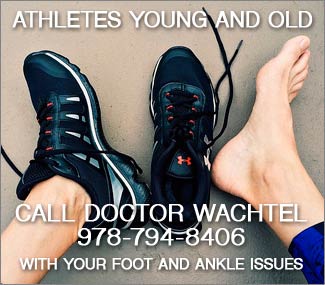 Request a FREE Book for Runners and Athletes
Podiatrist Doctor Wachtel is offering a limited run book free to athletes and runners.
Click here to request your copy of The Runner's Healthy Foot and Ankle Book.