SKIN AND FOOT NAIL CARE
Nail Fungus, Ingrown toenails, Athlete's Foot
Warts, and other skin and toenail issues, we can help.
We know it is important to avoid foot injuries like sprains or fractures, but sometimes we forget that skin and nail health is just as important a part of our overall foot health. Many skin conditions can plague our lower limbs: toenail fungus, ingrown nails, and athlete's foot are just three of the most commonly seen problems that can occur.
Toenail Fungus Treatment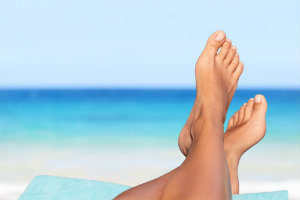 The technical term is onychomycosis, but really it just means that fungus got under the toenail and has caused an infection. Usually the only symptoms are changes in the nails such as thickening or discoloration (yellowing or white streaks). There may be pain associated with a fungal infection, but not always. To treat toenail fungus, it is necessary to keep the feet clean and dry. After you shower make sure to dry off your feet very thoroughly and use powder to get rid of any remaining moisture. Change your socks throughout the day if you sweat a lot and give your feet time to breathe. Keep all tools that you use on your nails (clippers, cuticle tools, etc.) clean. Wear shower shoes while in public facilities, such as at the gym. Once an infection has set in it can be difficult to get rid of, so prevention is key.
Treating Ingrown Nails
When a nail grows into the soft tissue of the toe instead of straight out, this is known as being "ingrown". This condition is very painful and can lead to infection. There are different reasons for nails to grow this way including cutting the nails improperly, genetics, crowding the toes in too tight shoes, and trauma to the toes. You can relieve some of the pain by soaking your feet in warm water and then gently pushing back the affected skin from the nail. However, it is always best to seek professional treatment for any ingrown toenail to avoid further complications.
Athlete's Foot
Along the same lines of toenail fungus is athlete's foot. The difference is in the presentation. Athlete's foot is much more symptomatic, causing the skin to get flaky. It can cause burning or itching and result in blisters that drain and then get crusty. This fungus grows the same way they all do: in moist, warm conditions. This is why the inside of your shoes is a prime environment for it. You can also contract it in a spa or at the gym. Athlete's foot is quite easily treated by over-the-counter creams and powders, which are very effective in getting rid of this problem if used correctly.
When to Seek Help
At the first sign of a foot problem, call Dr. Mitchell Wachtel, podiatrist North Andover, at (978) 794-8406 or schedule an appointment online. It is best to get the care of a professional when dealing with any medical issue. Sometimes treatment at home can cause further complications that could be avoided by proper podiatric care. When you need a podiatrist in North Andover, Haverhill, or Lowell, we are proudly equipped to fix all of your foot problems and get you back on the path to health.
Foot Problems We Treat
Dr. Wachtel specializes in several different areas. They include:
We are affiliated with:
Whittier Rehabilitation Hospital – Bradford, MA
Whittier Rehabilitation Hospital – Westborough, MA
The Whittier Pavilion – Haverhill, MA
Merrimack Valley Hospital – Haverhill, MA
Holy Family Hospital – Methuen, MA
Saints Medical Center – Lowell, MA
Lowell General Hospital – Lowell, MA
Our Office Locations
451 Andover St. Ste 300, North Andover, MA 01845
Call: 978-794-8406
817 Merrimack St. Suite #2, Lowell, MA 01852
Call: 978-441-9519
145 Ward Hill, Haverhill, MA 01835
Call: 978-794-8406